Back to Blog List
Topics/Previous Posts
Back to School Teacher Gift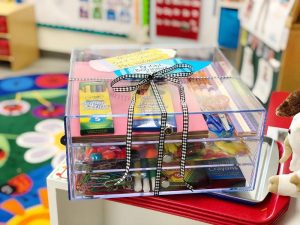 A Back to School Teacher Gift filled with school supplies is a perfect and thoughtful present.
This year school might look a bit different with in-person and virtual learning options. Everyone is adjusting as the new school year begins. It is good to remember to be kind. The teachers are struggling just as much as the students are, so let's show them some love!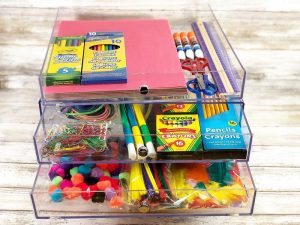 Using the Deflecto® Large 3-Drawer Organizer, fill each drawer with school and art supplies that would be perfect for any teacher to share with their students.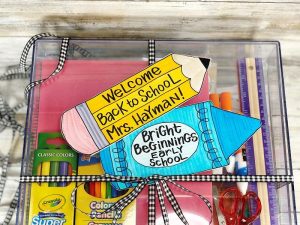 Complete the Teacher Gift with FREE Printable Tags by Design Team Member, Beth Watson.
Wrap your gift up with a bow. Tie a black and white gingham ribbon around both sides of the organizer and tie in the center with a bow, and then add the tags with adhesive.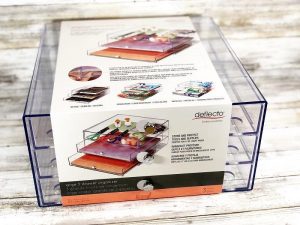 The Deflecto® Large Three-Drawer Organizer is the perfect addition to any classroom.
This Deflecto® Large Three-Drawer Organizer is 13″ by 13″ by 6.5″ for organizing school supplies, scrapbook papers with embellishments, sewing supplies, knitting supplies, and more. The transparent cube allows full visibility to quickly access what you need. Divided drawers keep everything neat and tidy. Compact, stackable design leaves plenty of room on your work table or desk.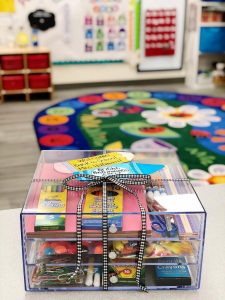 Beth say…

I ca
n think of so many ways to fill and gift this
Three-Drawer Organizer.
Pack with k-cups, flavored creamer and sugar to create a coffee station for a friend with a new home. Load with treats, chocolates and candies to create a candy bar at a bridal shower or birthday party. Fill with greeting cards, tissue papers and bows to create a wrapping station for all occasions. The possibilities are endless!
Share your projects and ideas with us using
#DeflectoAtHome #DeflectoCrafts
on social media.
Back to Blog List