Back to Blog List
Topics/Previous Posts
Flower Cupcake Topper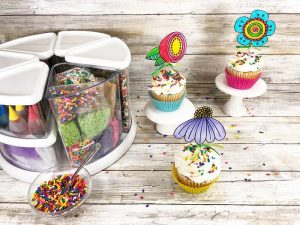 Celebrate the everyday moments with these cute Doodle Flower Cupcake Toppers
from Design Team Member Beth Watson.
Festive for a crafty birthday, a Summer picnic, or even a Tuesday afternoon!
Materials Needed:
Heavyweight Cardstock
Markers or Colored Pencils
Scissors
Flat Wooden Picks
Adhesive
1/8″ Assorted Green Ribbon
Sprinkles
Directions:
Doodle your flower design onto heavyweight cardstock.
Color in your design with markers or colored pencils.
Cut around the image with scissors.
Adhere the design onto the end of the wooden pick.

For some added texture (and fun), measure and cut six inch lengths of assorted green ribbons.

Tie the ribbons in a knot around the wooden pick and trim ends. The ribbon mimics leaves and makes the toppers extra fancy!

Once the Doodle Flower Cupcake Toppers are complete, it's time to decorate the cupcakes and celebrate!
Beth says…"Organizing is a Breeze with the Deflecto Rotating Carousel Organizer. It fits perfectly on the top shelf of my baking cabinet with plenty of room for additional supplies. The fun secret about the
Deflecto Rotating Carousel Organizer
is that the base is a Lazy Susan! So, I can spin it around and have access to everything on the top shelf."
Share your projects and ideas with us using #DeflectoAtHome #DeflectoCrafts on social media.
Back to Blog List