Back to Blog List
Topics/Previous Posts
Organizing Holiday Craft Supplies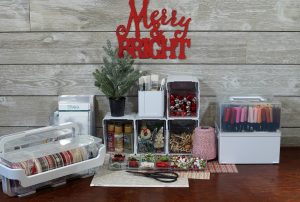 Christmas Crafting Organization Tips…
It's that time of year when thoughts are leaning towards the Holidays. For many, the Holidays are a favorite time of year to do craft projects. There's so much crafting, creating, gifting, and sharing to do. Let's get started.
For a little inspiration, Design Team Member Sue Eldred shares with us how she organizes her craft supplies for the Ultimate Holiday Crafting Season.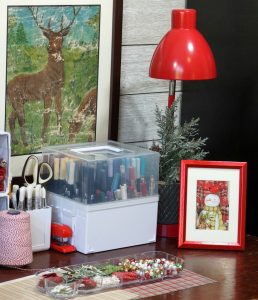 To prepare for the busy season ahead, transition your space with all your favorite Christmas Crafting Supplies conveniently close. Mix a little old with the new to make it personal.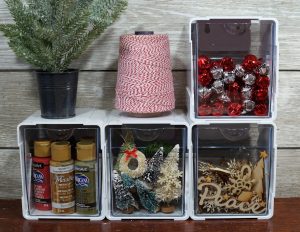 Featured Storage:
Sue used the Deflecto Interlocking Tilt Bins to keep jingle bells, small wood embellishments, paints, bottle brush trees, all neatly organized and easily accessible.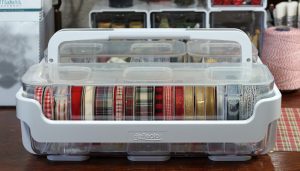 Sue says…"I use a lot of ribbon during the Holidays. I use the Ribbon Dispenser that fits into the large section of the Stackable Caddy Organizer and add all my favorite holiday ribbon rolls. As you can see, it holds several. The small and medium containers hold my glue guns and adhesives. The Stackable Caddy is great for grab and go crafting."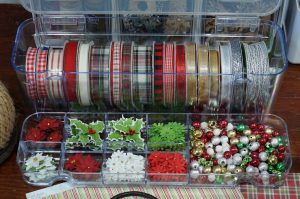 The Deflecto Caddy Storage Tray is perfect for holding floral embellishments and beads. It fits nicely into the large compartment of the Deflecto Stackable Caddy.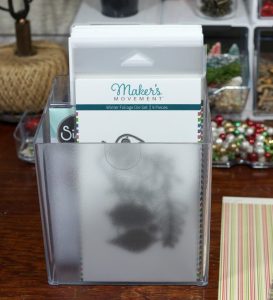 Use the Deflecto Stackable Open Cube to hold Holiday Dies and Stamp Sets. It's also a great place to stash cut cardstock ready to be folded into cards.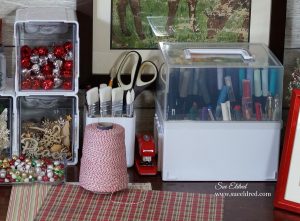 The Deflecto Interlocking Marker Organizer is not only great for holding markers it's also great for holding paintbrushes, scissors, pens, and pencils. It looks great and keeps everything neat and tidy. (and…it fits nicely into the stackable caddy)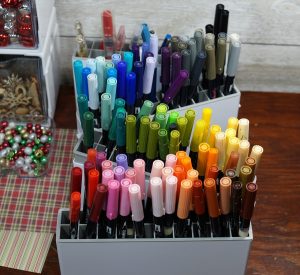 When working on cards, it's great to have markers organized and close at hand. You can unfold the Expandable Marker Accordion into several different configurations. It's a perfect companion to have on your desk.
Update your Holiday Craft Space and enjoy the difference it makes.
Share your projects and ideas using #DeflectoAtHome #DeflectoCrafts
Back to Blog List